Sources privy to the information say that the Churchill comedian was sent home nearly a week ago. However, other reports alleged that he quit a few days before the scandal with Stella Bunei Koitie (Jemutai Chibambe) emerged.
"Hamo no longer works for the station. We, however, wish him the best in all his endeavours," the highly placed source said.
Further details revealed that the comedian had crossed paths with his bosses who reportedly accused him of being indisciplined.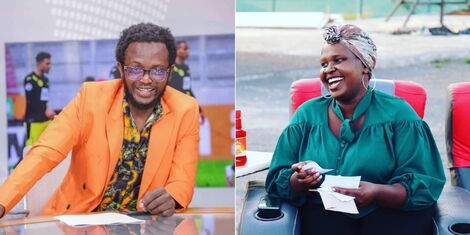 Comedian Prof Hamo (left) and Jemutai Chibambe (right)
Instagram
He has since been replaced by the Deputy Station Manager, Clyde Katiba, who co-hosts the Morning Drive show with Jeff Koinange.
The comedian and Jemutai were embroiled in a paternity scandal, with the latter accusing the former of abandoning his two children.
Hamo responded arguing that his wife took over the matter and sent upkeep money to Jemutai. He added that "I have children who live with me and others who don't live with me. I have been providing for my children from day one and there's no day they went without food or shelter or anything they need."
Daniel Ndambuki's (Churchill) aided the conflicting families to resolve their issues with Hamo accepting to pay school fees and alsodemanding a DNA test.
Jemutai, on Tuesday, May 11, stated that the results confirmed that the then Hot 96presenter sired their two children.
In August 2020, Hamo was poised to join Mediamax Limited's Milele FM from Hot 96 FM.
An insider at Mediamax who spoke with Kenyans.co.ke detailed that the comedian had already signed a contract with Milele FM.
The Churchill Show comedian was set to join radio host Dee also known as Presenter 001 to host Milele FM Drive from 4 pm to 8 pm.Group Radio Programs Manager at Mediamax, Simaloi Dajom however declined to comment on the issue. Hamo was reportedly offered a new contract to remain at Hot 96.
---
There's no story that cannot be told. We cover the stories that others don't want to be told, we bring you all the news you need. If you have tips, exposes or any story you need to be told bluntly and all queries write to us

[email protected]

also find us on Telegram
---